The DeWitt-Lavaca Aggie Moms' Club hosted its annual Howdy
Party Thursday evening, July 30, 2015 at the lovely home of Bill and Nancy
Blackwell in Cuero, Texas. This annual event honors all incoming freshmen
attending Texas A&M University.
This casual "get together" is a great way for students and their parents to get
acquainted with other students and parents. This is also an excellent opportunity
for students and parents to learn a little more about what to expect in "Aggieland".
Chili hot dogs with trimmings, desserts, and refreshments along with socializing,
games, and door prizes were enjoyed by everyone.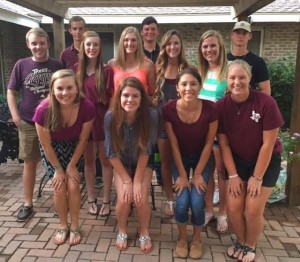 Students in attendance were:
Front Row: Taylor Opela, Paiden Pruett, Mariah Rodriguez, and Chelsea Veit.
Back Row: Kyle Schoenemann, Thomas Bowman, Lindsey Dekowski, McKenzie Heller, Thomas Beacon, Sheyanne Chumchal, Celine Markert, and Austin McCoy.