Dewitt-Lavaca Aggie Moms' Club 2020 Schedule of Events
Tuesday, February, 10, 2020
AGGIE MOM'S MEETING & BUNCO – 6:00 PM

The DeWitt-Lavaca Aggie Mom's will meet Monday, February 10 at Three Oaks Retreats located at 1404 East Gonzales, Yoakum. 
There will be a brief meeting at 6:00 p.m. followed by Bunco. Soup and snacks will be served. Everyone is encouraged to come out for an evening of fun. All members and prospective members are encouraged to attend.
The DeWitt-Lavaca A&M Mothers' Club was established in 1965 and is proud to celebrate 55 years of organized support for our students attending Texas A&M University.    Past Presidents inclulde Maggie Jahn – 1979-1980, Louise Witte – 1989-1990, Nancy Blackwell – 2001-2002, Linda Schmidt – 2005-2008, and Jo Ann Kloesel – 2011-2012.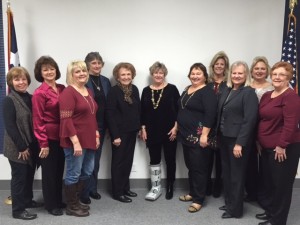 Pictured left to right are Laura Kocurek, Louise Witte, Karen Washington, Jo Ann Kloesel, Maggie Jahn, Nancy Blackwell, Tanya Wenzel, Sherri Kusak, Linda Schmidt, Debbie Brandt, and Pat Wessels.
Other YearlyEvents Hosted by the club:
Holiday Market Style Show and Dinner – https://dewittlavaca.aggiemoms.org/holiday-market-style-show-and-dinner/
HOWDY PARTY – https://dewittlavaca.aggiemoms.org/howdy-party
GOODY BAG ASSEMBLY AND DELIVERY – https://dewittlavaca.aggiemoms.org/goody-bag-assembly-and-delivery/
PAPERWEIGHT GIFT – https://dewittlavaca.aggiemoms.org/paperweight-gifts/