Dewitt-Lavaca Aggie Moms' Club 2019 Schedule of Events
Tuesday, January, 7, 2020 – Singing Cadets – 7:00 PM 
The Singing Cadets Winter Tour will make a stop at the Cuero ISD Performing Arts Center on Tuesday, January 7, 2020.
Tickets are $10. Please email dewittlavacamoms@aggienetwork.com with the requested number of tickets and we will contact you for delivery.
The DeWitt-Lavaca A&M Mothers' Club was established in 1965 and is proud to celebrate 54 years of organized support for our students attending Texas A&M University.  A "Get Together" with light refreshments was held Monday, February 8 in honor of this momentous occasion.  Past Presidents of the organization were recognized and thanked for their contributions during their tenure.  Past Presidents in attendance was Maggie Jahn – 1979-1980, Louise Witte – 1989-1990, Nancy Blackwell – 2001-2002, Linda Schmidt – 2005-2008, and Jo Ann Kloesel – 2011-2012.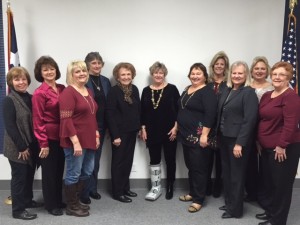 Pictured left to right are Laura Kocurek, Louise Witte, Karen Washington, President 2015-2016, Jo Ann Kloesel, Maggie Jahn, Nancy Blackwell, Tanya Wenzel, Sherri Kusak, Linda Schmidt, Debbie Brandt, and Pat Wessels.
Other Events Hosted by the club:
Holiday Market Style Show and Dinner – https://dewittlavaca.aggiemoms.org/holiday-market-style-show-and-dinner/
HOWDY PARTY – https://dewittlavaca.aggiemoms.org/howdy-party
GOODY BAG ASSEMBLY AND DELIVERY – https://dewittlavaca.aggiemoms.org/goody-bag-assembly-and-delivery/
PAPERWEIGHT GIFT – https://dewittlavaca.aggiemoms.org/paperweight-gifts/