Dewitt-Lavaca Aggie Moms' Club 2019 Schedule of Events
Monday, September 16, 2019 – 6:00 p.m.
Dewitt-Lavaca Aggie Moms' Club Annual Fall Meeting
Hochheim Prairie Farm Mutual Insurance
500 South US Hwy 77A
Yoakum, TX 77995
Please park in the back parking area.
Refreshments will be provided.
Annual Dues by October 1, 2019
Annual dues are $15 per year or you may elect to be a Lifetime member for a one-time fee of $150. Please complete the Membership Form located HERE and bring to the meeting or mail it along with your dues:
Janice Busselman:
56 CR 131A
Hallettsville, Texas 77964
*Please make checks payable to DeWitt-Lavaca A&M Mothers' Club.
The DeWitt-Lavaca A&M Mothers' Club was established in 1965 and is proud to celebrate 54 years of organized support for our students attending Texas A&M University.  A "Get Together" with light refreshments was held Monday, February 8 in honor of this momentous occasion.  Past Presidents of the organization were recognized and thanked for their contributions during their tenure.  Past Presidents in attendance was Maggie Jahn – 1979-1980, Louise Witte – 1989-1990, Nancy Blackwell – 2001-2002, Linda Schmidt – 2005-2008, and Jo Ann Kloesel – 2011-2012.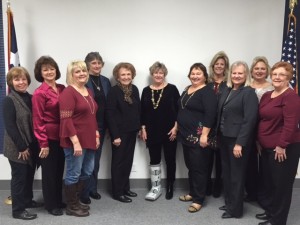 Pictured left to right are Laura Kocurek, Louise Witte, Karen Washington, President 2015-2016, Jo Ann Kloesel, Maggie Jahn, Nancy Blackwell, Tanya Wenzel, Sherri Kusak, Linda Schmidt, Debbie Brandt, and Pat Wessels.
Other Events Hosted by the club:
Holiday Market Style Show and Dinner – https://dewittlavaca.aggiemoms.org/holiday-market-style-show-and-dinner/
HOWDY PARTY – https://dewittlavaca.aggiemoms.org/howdy-party
GOODY BAG ASSEMBLY AND DELIVERY – https://dewittlavaca.aggiemoms.org/goody-bag-assembly-and-delivery/
PAPERWEIGHT GIFT – https://dewittlavaca.aggiemoms.org/paperweight-gifts/