AGGIE Br"AGs"

Have you or an Aggie you know (former or current student) done something noteworthy? Let our Aggie Family read your news!
Just write a paragraph and email it to dewittlavacamoms@aggienetwork.com. Photographs in .jpg format are welcome!
Celine Markert finished eighth in the discuss at the Baldy Castillo Invitational hosted by Arizona State in Tempe, AZ last weekend.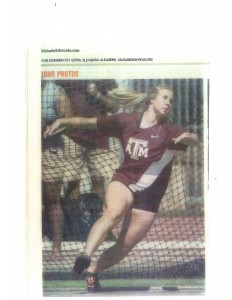 Celine, a freshman from Yoakum, threw 161 feet, 11 inches, which ranks ninth on the all-time Texas A&M list. Whoop!
Shiner Native, Zachary Lawrence, finishes 2015 football season as yell leader at Texas A&M. Click on image below for more information.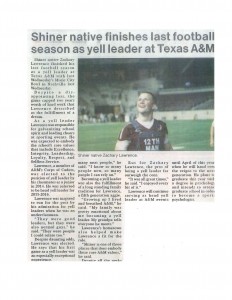 Celine Markert wins third-straight GOLD medal
Celine Markert, graduate of Yoakum High School competed in two events at the UIL state track and field meet in Austin May 15 and 16. Celine won her third discuss championship with a best throw of 149 feet, 10 inches. She also took silver in the shot put with a throw of 43 feet, 2.75 inches.
Celine will continue her throwing career at Texas A&M University. Congratulations, Celine!
Chelsea Veit – At the top of her game…..and high school class
Chelsea recently graduated from Cuero High School with academic honors, while successfully contributing as a participant in volleyball, basketball, golf, softball, and cross-country over the past four years.
Her coaches note her as being a quiet leader, very competitive, driven and smart about how she manages her time. And as passionate as she is on the court and the field, she is that driven with her schoolwork.
Chelsea's athletic career ends as she heads to Texas A&M to begin working on her major in accounting. Congratulations, Chelsea!